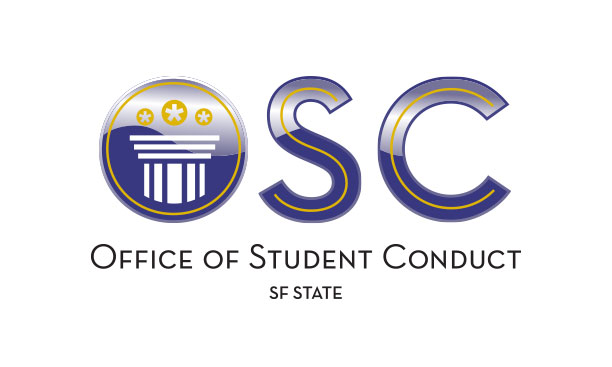 Our Mission
The Office of Student Conduct (OSC) at San Francisco State supports the University's educational purpose and goals set forth by interpreting and enforcing standards of student behavior, related policies and procedures under the State of California Code of Regulations, Title V, sections 41301-41304 through Executive Order 1098, Student Conduct Procedures. Cases involving alleged violations of University policies or campus rules by students should be referred to this office, which is responsible for ensuring the fair and confidential administration of the Student Conduct Procedures. The OSC strives to facilitate student learning, ethical development in connection with the student disciplinary process, promote academic integrity and responsible conduct through outreach, conduct outcomes, and education. The OSC works to maintain a safe and orderly campus environment.
Student Learning Outcomes
Be able to articulate why the University community is concerned with their conduct and reflect on any in-congruence between their values and their actions.
Understand, reflect and take ownership of their actions.
Understand that their conduct has consequences.
Learn skills, strategies, and resources that are likely to assist them in avoiding future violations of the Code of Student Conduct.
Renew their commitment to embracing their responsibilities as members of the San Francisco State University community and be less likely to engage in violations of the Code of Student Conduct.
Renew their commitment to their academic careers and participate in school life that reflects positively on themselves and their campus community.
To report behavioral or conduct issues, please click the link below:
To report academic integrity (class grade related) issues, please click the link below:
To view PDF files, please download Adobe Reader